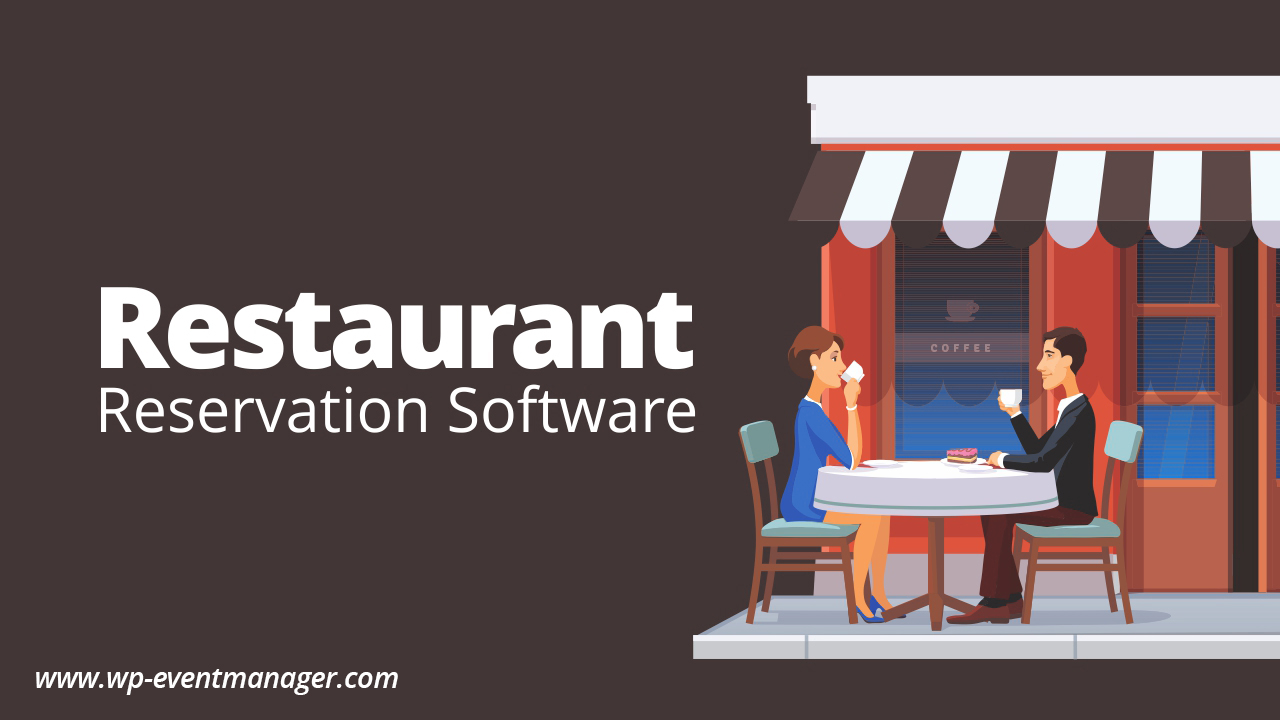 Restaurant reservation software
Eventflavour is a ticket selling portal that you can use for surprising purpose. This simple, flexible and easy to use platform that you can even use for a restaurant reservation system. Promote your restaurant and services This simple system can help you publicize your restaurant and sell tickets for it. And we bet, doing this was never easier. Eventflavour provides you a straightforward way to win customers for your restaurant and gain more profits.
Create events for your restaurants and sell tickets
Display the prominent features, address and images
Let the interested visitors reach you through the contact organizer form
Accept the payments for your tickets through our secure payment processing feature
Enable Social sharing
Send emails, invitations and use the promotional tools
Enable coupons and vouchers
Using Eventflavour for your restaurant has these advantages
Convey your messages and new offers
With this events portal service, you can easily send emails to the attendees. The emails can be sent directly or you can even schedule them to be sent later. This is a great way to keep them updated with the current happening, new services and offers of your restaurant.
Sell tickets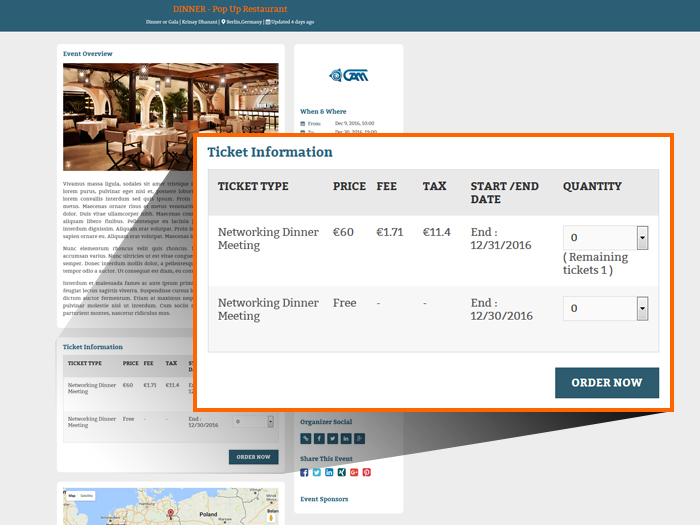 Create special offers and sell tickets through eventflavour. Let the visitors know about your restaurant through the event. Use our events listing page to display the features and facilities of your restaurant. Allow the visitors to buy ticket online and get paid for them with the payment facilities offered by our platform.
Get the social media love
At eventflavour we believe that Social media is a platform through which you can promote fastest. So, we allow to sell through facebook. You event will have a unique page at facebook and you will be able to sell tickets on facebook. Secondly, Your event visitors will also be allowed to share your event page on their social network.
Describe your restaurant
Through our eventflavour event listing page, you can smartly display all the features and provisions of your restaurant. Add abundant images and proper address. The interested visitors will be able to contact you through the contact organizer form.
We'll help you
Not just the system is easy to use, but should you need any help, we're there for you. Eventflavour has a team of skilled and happy to help customer support team that can help you with the setup as well as troubleshoot your problems.
What will be the charges?
If you want to create an event with free tickets, you can use our platform to PROMOTE YOUR CAUSE FOR FREE. If you wish to sell priced tickets, we will charge you 2.5% of the ticket price. However, you can always Passover this charge to your ticket buyers. You can try our platform for free by registering yourself and adding an event with the free tickets. Try it out now ( link to the create event page)
No Contracts, Setup Fees, or Cancellation Fees
With Event Flavour, you come and go as you please. It makes us focus on providing you with the best product at all times to keep you happy.
Get started in less than 60 seconds. Try us out for free.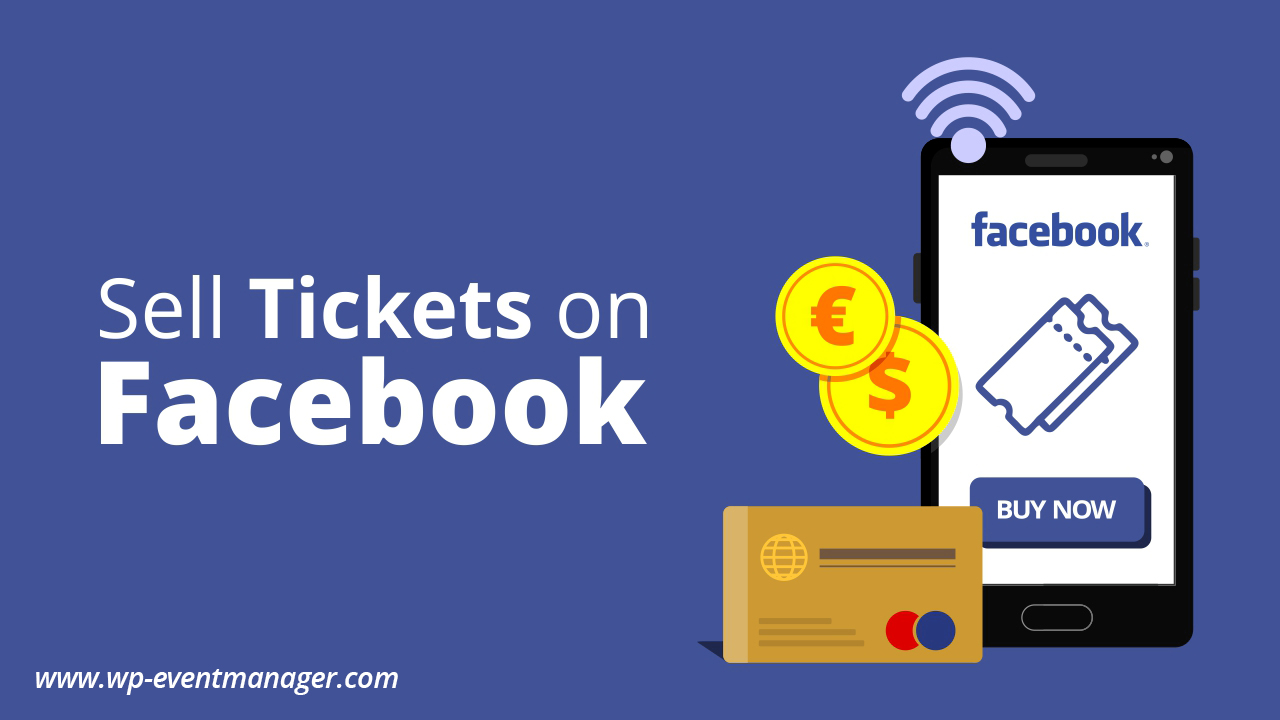 Sell Tickets on Facebook
Facebook is a great way to promote your events. You can create your event page at facebook and sell your tickets right there. Follow the simple steps to sell the tickets of your event through facebook. This helps you make it easy for your facebook audience to buy the tickets.
Here we are going to show you how you can add your event listing to the facebook using WP Event Manager and Embeddable Event Widget .
Open your facebook page and login. Now search for the third party apps for HTML iframes. Use the search bar and enter "Static HTML: iframe tabs". Open the app
Click on the result and the page will be opened. Now find and press the "Add static HTML to your page" option. It will ask you to select the facebook page to which you want to display the event. So select the page and complete the step.
On completing this step you will be taken to a new page. This is going to be your event page. Now you can set this page up as per your requirements. Click the "Set up tab" button.
This button will temporarily navigate you to a third party app page. Here you need clear the content at "index.html" tab.
The next thing you'll need to do is to open a new tab/window and navigate to eventflavour website. Login to your account and find the embeddable event widget option. Open it.
Now go back to the your previous setting page for the app. Now paste the code at "index.html" section. Under the actions menu, choose to edit the name and image. Set the name and image (You will need to "Login to facebook" again before you can do this). Proceed to the next step.
This will display a pop-up that will ask your permission to associate your event to your facebook page. After successfully editing the event name and image, you can press the "save & publish" button. This will publish your event on facebook.
Pressing the "View on facebook" page will open the facebook page for your event. You can create reorder the tabs. You can even modify the call to action button and change the link there.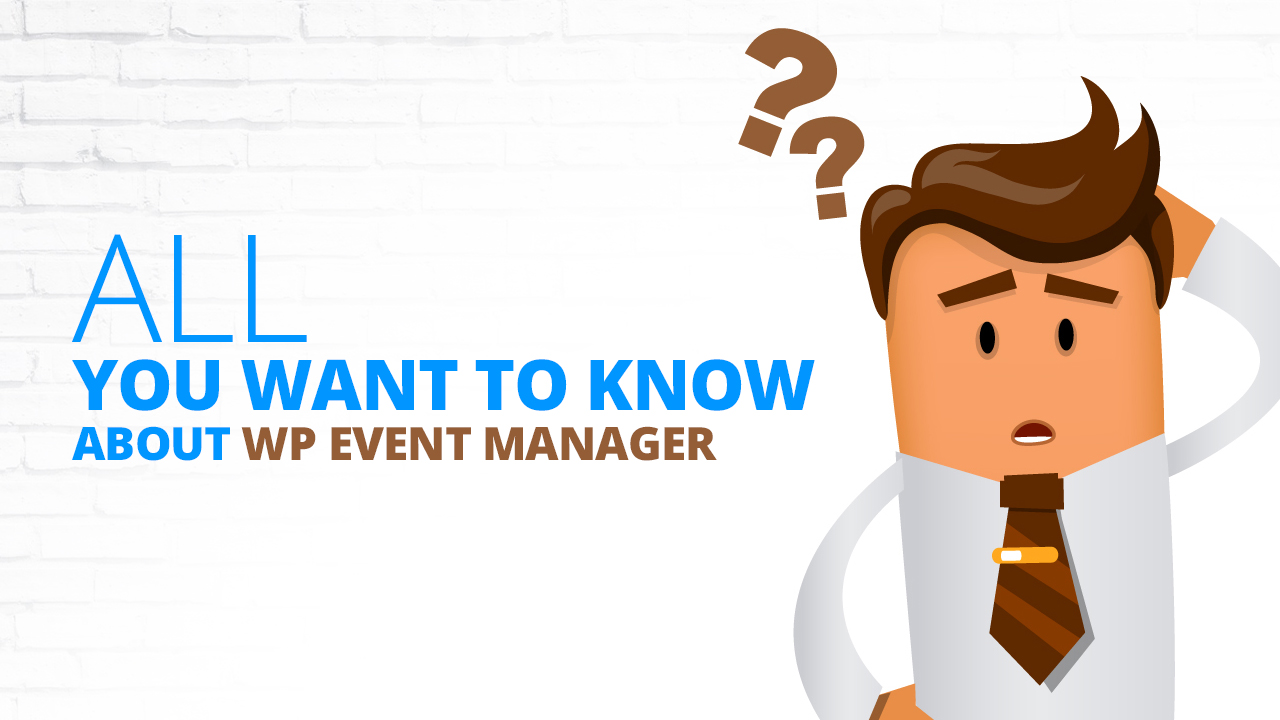 You will find hundreds of plugins for your WordPress website, and to choice, the best one is often a bother. There are many criteria through which you skim along to find the most suitable one. We will lessen your burden and introduce you to one of the smartest plugins of all, i.e., WP Event Manager plugin. WP Event Manager Plugin which is a lightweight software which will act as an add-on to your web browser and add more functionality to whatever you do on the WordPress website. WP is an easy-to-install and open source plugin for your specific purpose of event listings. The accessible and fully-featured functionality makes this event managing plugin far better from others for adding events listings. Let's do some more drilling and get you all the in-depth knowledge about this plugin.
How is WP Event Manager useful for your website?
We all search for the simple and easy-to-use conduits to get our goal accomplished. And to do so, we need an open source. WP Event Manager is the plugin which will not only help you in adding functionality to your website but also get your things done in few clicks. How? Read the below pits to know its worth.
Handy source to create, manage and organise events on your site with adroit options, and conversant user interface.
All the Ajax-based sieving and exploring features inserted through shortcodes to make sure that the traffic gets the entries of their relevance straightaway.
Frontend forms and dashboard assists in putting forward, handling, and systematizing your event schedules.
Developer friendly interface is insinuated with the best run-throughs. All users will find regimented and glossed codes, norm post categories, endpoints and original documents.
Features Which Make WP Event Manger Exceptional
You will rarely find a plugin which is loaded with all the prime features and still is lightweight and easy to use. In our WP Event Manger Plugin, you will be able to transform you site into an event management portico very quickly.
Good option for even a first timer
Compatible with all the devices
Attuned with all browsers
SEO friendly
Easily create massive events Directory
Live preview of events listings
Category of events
Ajaz search and filter for finding event types
Event Dashboard
Event Widgets
Add-ons along with the WP Event Manager Plugin
Not only the above features, but WP Event Manager also offers extra functionality to your event website. You can purchase these add-ons by paying an extra sum of money. like –
WP Event Manager Support System
You will get resilient support from the team of experts who are well qualified to handle all your queries instantly. The various support sources are:
How is WP Event Manager a better option?
Final Thought
As a free plugin, it is a great option available to you for your event website. Though you can purchase the add-ons as per your need; the free plugin serves the purpose with all the primary functions. Moreover, the testimonials below will give you solid backing to support.
WP Event Manager is the only #WordPress plugin you'll ever need for handling events online.
Click To Tweet